Your guide to sewer line repair & replacement
Sewer Repair & Replacement for Baltimore Homes
Suspecting your home's sewer line needs repair or replacement can be overwhelming.  Here at C.A. Taciak & Sons, we believe that understanding your plumbing problem helps you choose the best solution for your home.  Many Baltimore homeowners lack a trustworthy plumbing repair resource.  We've used our 70+ years of experience to create a guide that walks you through the sewer repair process. If your home is experiencing slow drains, sewage backups, sinkholes, or bizarre smells, we are the experts you deserve.  If you are eager to get the ball rolling on your sewer repair or replacement, give us a call at (410) 960-2667.  If you would like to know if a C.A. Taciak & Sons sewer repair or replacement is right for your home, please read our guide below.
You will find that this article is quite in-depth.  We recommend reading it entirely to get a better grasp of your sewer line problem.  We also know that you are busy.  To jump to a particular topic, use the links below:
Sewers  |  Causes of Problems  |  Symptoms of Damage  |  Repair Options  |  Replacements  |  Costs  |  Schedule A Consultation  |  FAQ
What is a sewer & how does it work?

A sewer is a pipe system that removes the waste from your home's toilets, sinks, showers, tubs, and drains. If you live in the country and have distant neighbors, chances are you are on septic. But, if you have close neighbors or live in the city, it is very likely your home has a sewer.
The sewer line is the exterior part of your home's drain pipes. This section starts at your foundation wall and stretches to the property edge. The drain pipes inside your home are part of your building drain. Your sewer line's proper name is sewer lateral. This is because it connects laterally to the sewer main. Sewer mains are the large pipes that run through neighborhood streets and alleyways. These pipes are municipality-owned, unlike the sewer line on your property. Sewer laterals are much smaller in size than sewer mains. Your home's sewer lateral ranges from 3" to 6" in diameter.
Like many things, sewers work because of gravity. This means a sewer pipe should always slope down away from your home. While this golden rule makes modern plumbing work, it is hardly noticeable to the eye. Most sewers only drop around 1/4th of an inch per foot of pipe length.
Your sewer lateral connects to the city's sewer main at the edge of your property. Using this connection, your waste drains to a municipal sewage treatment facility. This facility cleans the wastewater and reintroduces it back into the water cycle. While this idea is less than charming, it is a pretty incredible process. Without this system, indoor plumbing would not be possible.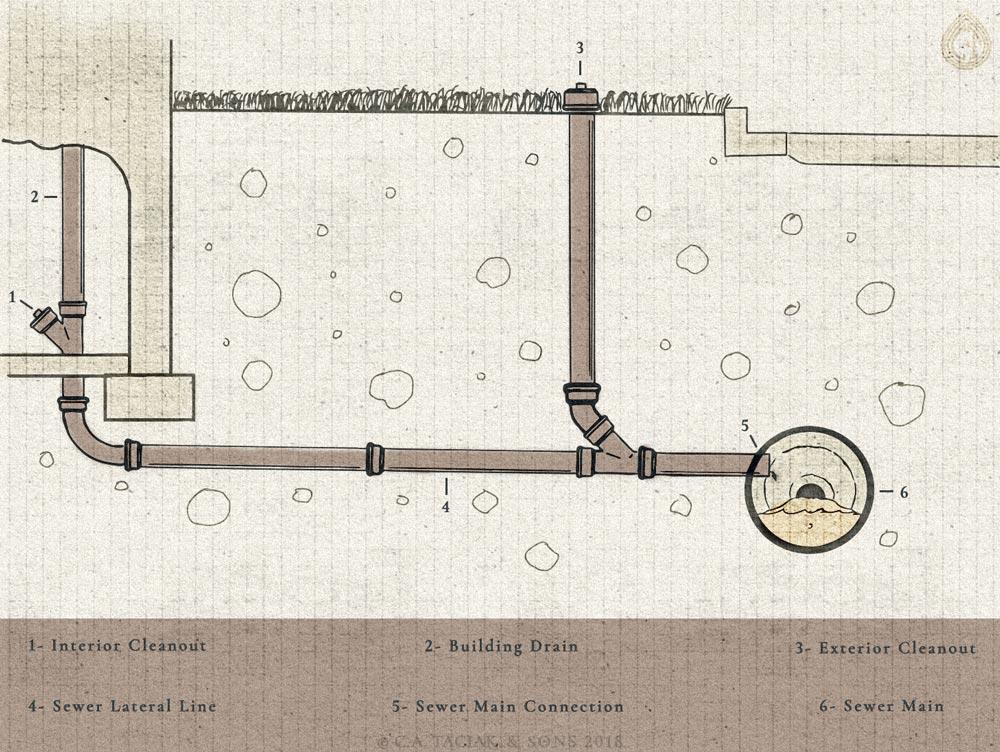 What causes sewer problems?
It's not always easy to pinpoint the cause of every sewer problem.  Still there are some common factors that lend themselves to sewer issues:
Old Age
Around 1800, the oldest parts of Baltimore city like Federal Hill and Mt. Vernon started having sewers installed.  This means sewers in Baltimore can be 140 years old.  Unfortunately, most sewer lines do not last that long.  The average optimal lifespan of a sewer is 60 to 70 years, making it the longest-lasting component of your house.  Since most sewer lines have not undergone replacement, chances are, your sewer line is as old as your home.  If you were 140 years old, you would be pretty temperamental too!  So what can go awry with your sewer as it ages?
Common problems are:
Tree root infiltration

Pipe corrosion and deterioration

Broken, cracked and/or collapsed pipes

Settling or shifting soil conditions
A sewer repair may seem an expensive and unexciting item to spend money on.  However, it is a once in your home's "lifetime" investment that ensures your home is livable.
Material Defect
No matter how well installed, if a pipe has cracks or consists of bad material it will have problems.  Some pipe materials, in particular, have had more problems than others.  As technology has improved over time, so have building materials.  It is not surprising then that some piping materials have had more issues than others.
PVC is the modern standard for sewer laterals in Maryland and what plumbers install now.  If you have an older home your sewer is likely made from clay, cast iron, or Orangeburg.  We've even come across pipes made from tubes of hollowed-out wood in older areas of Baltimore. We have run into every type of sewer pipe imaginable in our 70+ years of operation in the Baltimore and Towson area.  Whatever the material, we have experience fixing it.
Poor Workmanship
"Older plumbing suffered from bad materials and better workmanship. New plumbing suffers from better materials and worse workmanship."
A funny sentiment, but a sad commentary on common practices in modern plumbing.  Never before has an entire industry had access to so much technology.  However, plumbing materials at the pinnacle of technology are useless without correct installation.  No one wants to pay for a new sewer with the same old problems.  An expert repair ensures that the same problem doesn't happen again.  Protect your investment and get the job done right the first time.  C.A. Taciak & Sons combines best industry practices with three generations of experience, so your home is in good hands.
As a homeowner, diagnosing sewer problems can be very frustrating.  No one ever expects plumbing to stop working.  We use it every day and expect our  showers to drain and toilets to flush every time.   
But what happens when they stop working?  No one looks forward to the alarming unstoppable rise of toilet water after a flush.  A sudden flood of sewage in a basement is a nightmare most homeowners don't want to consider.  What causes sewer problems like these, and what do you do when it happens to you?    
In most cases, sewer backups show up in the lowest drains of your home.  When water can no longer drain through a pipe, it backs up through the closest and lowest open drain.  Basement sewage backup floods occur because the toilet, floor drain, or laundry sink was the lowest and closest open drain.  If you do not have a basement with plumbing fixtures, you would see these problems on your first floor.  Much like a basement backup, a sewage backup flood would happen at the lowest and closest open drains.  No one wants sewage in their living room from their foyer toilet backing up.
(Please note that it is possible for a drain issue to be local to a particular bathroom and not a problem with your sewer. An example of this would be if an upstairs toilet, sink, or shower stop working. If no other bathrooms below the problem area backup, you most likely do not have a sewer problem.)
But not every sewer problem starts out so obvious.  Even less serious problems may signal an imminent sewer backup.  You may notice a distinct foul smell in your basement or yard.  What could that mean?  Sewers are designed to be both air and watertight, so smelling sewer gas is a sign of a problem.  Even a sump pump pit that begins to smell odd could be a sign of sewer problems. Symptoms like these mean your sewer line could suffer from a backup causing clog, crack, or root problems.
What if you are not experiencing signs of a backup inside your home?  Could sewer problems be inbound?  Damage from your sewer system may not manifest itself indoors.  Symptoms can also appear outside in your yard.
Sinkholes
Sinkholes are a dreaded sewer-related problem that can appear in your yard.  These pits are a result of a hole in the sewer lateral that is sucking dirt into itself.  The dirt is then flushed down the line. These holes do not plug themselves and need repair for the sinkhole to stop growing.  Rest easy knowing that C.A. Taciak & Sons can resolve your sinkhole problem.  We combine sewer repair expertise with masterful excavating skills, producing great results.
Green sections of lawn
Does one patch of your grass look like a transplant from a golf course?  It could be a product of fertilizer runoff or it could be a sewage leak.  While creating the same result, one is a rotten problem to have.  Sewage leaking from a shallow sewer line provides wonderful (albeit a bit gross) plant nourishment.  The grass may be greener on your neighbor's side of the fence – but it may be because they have sewer problems.
Rapid tree or bush growth
Unusual foliage growth is akin to the greener grass problem mentioned above.  Sewage is like anabolic steroids to plant life. Tree and bush roots seeking nourishment often infiltrate sewer lines.  Once inside, they experience rapid growth.  These roots prevent your sewer line from draining as they continue to grow.  If left unaddressed, your sewer will begin to back up into your home.
Sewage seeping out of hillsides
Sewage may begin to seep out of a hillside instead of backing up into your home.  A broken or cracked line lets the waste run out and down the hill, flooding anyone or anything below.  This is not a pleasant situation for you or your downhill neighbors.
When backups continue to happen, frustration sets in. Drains become slower, mold appears, and shifting soil puts cracks in your foundation. If you are experiencing any of these problems now, we can help. No matter how disgruntling your home's plumbing problem is, we can fix it.
If you are facing sewer problems, you may be curious about your options for repair.  Depending upon the nature of the plumbing issue, there are a few different courses of action that we can advise.
Sewer maintenance
For some homeowners, sewer maintenance is the best option for infrequent sewer issues.  Sewer maintenance is usually accomplished with Drain Cleaning.  During a Drain Clean, a drain machine cuts through blockages in the pipe, such as roots and debris clogs.  The lower cost of sewer maintenance makes more sense for many homeowners' budgets.
Sewer line spot repair
Some sewers only have a problem in one spot.  In this situation, it does not make sense to replace the whole line.  Although sewers have an average lifespan of 60 to 70 years, this timeline is not set in stone.  If only one section of a sewer line has a problem, there is a good chance that the rest of the line will remain problem-free. In most cases, we can design a spot repair that addresses future issues if they should ever occur.
Complete sewer line replacement
A complete sewer replacement is necessary when the line has several problem points.  When this is the case, our clients have two options:
Conventional "open cut" trenching:
Conventional sewer replacement involves quite a bit of digging.  A long trench is dug from the municipal sewer hookup to your building drain.  Heavy machinery excavates the majority of this trench.  We take care to hand dig around delicate underground utilities like gas and power lines.
Conventional trenching often produces an elevated "hump" of dirt.  You may have seen one in a neighbor's yard.  The hump caused by displaced dirt will settle over time.  We offer optional tamping and dirt compaction to speed up this process.
Trenchless Sewer Repair and Minimally Invasive Sewer Repair:
If your sewer runs under a detached garage, hardscaping, or landscaping, trenchless sewer repair is the best option.
Trenchless is a bit of a misnomer.  In fact, trenchless replacement usually still requires digging, but it is minimal.  Holes are dug both where your lateral meets your building and the municipal sewer system.  Unlike conventional trenching, minimally invasive options eliminate excavation between those two spots.  Do you feel your home would be better serviced with trenchless repair?  Take advantage of our trenchless repair and replacement guide page.
When is a sewer replacement necessary?
Sewer repair vs replacement can be a daunting decision.  We always suggest getting informed and exploring your choices before deciding.  You know your budget and situation best.  If a drain clean once a year keeps your sewer flowing, you may have no need to spend thousands of dollars on a permanent repair. However, if you need a drain clean every month just to use your plumbing, you may literally be "throwing money down the drain".
Some plumbers strive to see how much they can bill out.  We do not.  C.A. Taciak & Sons measures success by the quality of service we provide our neighbors and the number of referrals we receive.  We never force one solution over another.  We prefer to offer our clients a proposal using a repair method that carefully balances the needs of their job and capable solutions designed from decades of experience.  With prices in mind, our clients can make an educated decision about their home's sewer.
What does a sewer repair or replacement cost?
We understand that sewer line repair and replacement is not an exciting home renovation.  No homeowner wants to spend the money meant for a well-deserved vacation or kitchen remodel to have a working bathroom.  That's why we approach every job with efficiency and affordability in mind.
Sewer repair options begin at $3,800 and increase from there.  Exact pricing depends on the condition of your sewer, job site requirements, and the addition of a la carte options.  Add ons like tamping, trenchless repair, and concrete repair will result in a higher price.
The average sewer replacement cost is between $4,500 and $6,500
The price of large-scale home plumbing repairs can seem intimidating.  People often wonder where these numbers come from.  As homeowners ourselves, we are happy to provide you with insight.
Our high level of service and craftsmanship requires a large investment on our company's part.  We bring out many hundreds of thousands of dollars worth of equipment to every job site.  We are insistent on carrying many professional licenses and current insurances to give our customers peace of mind.  We also spend an enormous amount of time keeping abreast of the newest industry skill sets and plumbing technologies.  
Above all else, our customers receive our craftsmanship and expertise.  Choosing C.A. Taciak & Sons for your sewer repair or replacement means working with Frank or Sam Taciak through every step of the repair process.  A random technician or plumber never takes over for Frank or Sam. When you call our company, you speak with Frank or Sam.  When we visit your home to create a proposal, you meet with Frank or Sam.  When we physically do the work, the crew consists of Frank and Sam. If you have any questions or concerns at any point during the process, Frank or Sam are available with answers.   
We strive to always provide our clients with what they truly need.  You are the final authority on what is a good investment toward your home. We give you the options and advise what is best for your situation. Then we allow you to make the best decision for you and your home.  If you're ready to trust us with your sewer repair or replacement, please get in touch.
C.A. Taciak & Sons Baltimore Sewer Repair F.A.Q.
How can I tell if I'm on sewer or septic?
The best indicator is how close you are to your neighbor.  A septic system requires a large amount of land to work and would not be practical on less than half an acre.  If you live in a city row-home, you have a sewer line. If you live on a farm in northern Baltimore County, you likely have septic. If you live somewhere between, it could be either and we are here to help.  C.A. Taciak & Sons specializes in both sewer and septic systems.  Whatever your problem, we can help.
Isn't it Baltimore City or Baltimore County's responsibility to make sure my sewer is working?
Your municipality's responsibility typically stops at your property edge. They take care of the neighborhood's sewage pipes. You are responsible for the individual sewer pipe connected to your home. Do you have a visible exterior clean-out near your property edge? Your local municipality will maintain your connection to their sewer via that clean-out. The municipality's maintenance of the connection is a taxpayer service, like trash pickup.  Their numbers are:
Baltimore City: 311
Baltimore County: 410-887-7415
How much of my yard will be disturbed during a sewer repair or installation?
This depends on the extent of the repair required and your level of investment.  Spot repairs and any trenchless method result in minimal disturbance.  However, conventional sewer repair and replacement require quite a bit more disturbance.  A conventional sewer repair typically involves a 4-6ft wide trench from your house to your property edge.
Regardless of the method, we backfill, hay, and seed all excavated areas to prevent erosion.  A hump of dirt may occur over any excavated areas. This is a product of air mixing with the excavated dirt during backfilling. To avoid this, soil compaction and tamping needs to occur during backfilling. Tamping compacts the dirt and minimizes any hump or variation in the grade of your lawn. Tamping requires much more work and is an optional add-on/charge that is unique to each project. It is possible for your yard to settle to its original grade after a few weeks or months without tamping.  Tamping and soil compaction speeds up natures work.
My sewer runs under my driveway, trees, and/or patio. Will you have to break or dig them up?
This depends on your particular problem as well as the method of repair chosen.   We always strive, regardless of method, to disturb as little of your property as possible.  If your sewer runs under your driveway, patio, staircase, sidewalk, trees, etc. we have options available to minimize the disturbance of these features.  We also have many options to seamlessly repair the area disturbed once the job is complete.  We often perform small concrete repair as an added service to our clients.  Additionally, we can move and replant small foliage.  It is definitely possible for your yard to look exactly the same before and after our work.
I'm not sure if my sewer needs repair or replacement.  How can I tell?
Where do I begin?
Your best course of action would be to give us a call.  You will be speaking with either Frank or Sam Taciak.  Both have many years of experience diagnosing underground plumbing problems.  Even if you decide not to work with us, we can often provide a much better starting point to make decisions from.  A phone call to us is always free.  If you do need more information, we can come investigate your problem thoroughly and craft a solution.  Although we are a small two man crew, we physically attend to most client's homes within 24-36 hours.