Camera Inspections & Pipe Locating for a complete picture of your plumbing's condition
Sewer and Drain Camera Inspection & Pipe Locating in Baltimore, Maryland
Plumbing is an integral part of your home.  Drain pipes, sewer lines, and rain leaders all perform critical functions on your property.  When these plumbing systems begin to fail, their repair is necessary.  No one enjoys a slow draining tub or a clogged toilet.  Unfortunately, because most plumbing is behind walls or underground, identifying problems can be difficult.  As homeowners ourselves, we understand that any plumbing needing repair is frustrating.  The only thing that can be more daunting though, is deciding which contractor to use, and which repairs to approve.
Camera inspections and pipe locates take the guesswork out of sewer and drain repair.  Pipe inspections show the location of any damage, as well as its severity with great accuracy.  Equipped with this knowledge, you and your plumber can then determine the best course of action to get your plumbing up and running again.  Video pipe inspections are also a great way to check up on your pipes, noting any maintenance they may be needing.  Pipe inspections are also a powerful tool to use when purchasing real estate.  An inspection is able to show the health of a home's septic and drain systems.
C.A. Taciak & Sons is an expert at performing video pipe inspections in the greater Baltimore area.  Our specialized equipment and three generations of experience make us the plumbers your home deserves.  We specialize in any video pipe inspection objective.  If your pipe needs repair, we can find and diagnose any problems.  If you are going through a real estate transaction, we offer expert camera inspections, pipe locating, and sewer inspections.  C.A. Taciak & Sons even offers camera inspection services for homeowners seeking a second opinion on plumbing repairs.  If you are unhappy with the nature of a plumbing diagnosis that another company may have given you, we would be happy to help.  Sewer and drain inspections are a great way to check in on your home's health annually.  We are pleased to offer scheduled yearly plumbing inspections for our clients.  If you feel your home would benefit from any of these camera inspection services, please get in touch.  You can reach Frank & Sam Taciak at (410) 960-2667.  If you would like to research more about camera inspections, please take advantage of our guide below.
In this article, you will find a wealth of information on pipe inspections.  If you are looking for a particular topic, use the links below to jump to that section:
Pipe Inspection  |  Pipe Locating  |  Diagnosing Problems  |  Inspections for Real Estate  |  Schedule A Camera Inspection  |  FAQ
What is a video pipe inspection?
A video pipe inspection – or camera inspection – is a visual inspection of a pipe's interior condition. A video pipe inspection can be performed on sewer lines, septic systems, drain lines, and rain leaders. Not only does it show what problems are in the pipe, but also their severity and exact location.
A video pipe inspection requires a few specialized tools. A camera reel, viewing monitor, and locator wand are all needed to perform this service effectively. The first step in any video pipe inspection is to gain access to the plumbing pipe through a cleanout or by removing a toilet. If a camera inspection is being done on a rain leader system, a portion of a downspout is removed. The next step is to insert the camera head and push the camera cable through the pipeline. As the camera moves along inside the pipe, video is relayed back to the viewing monitor. This allows us to inspect the pipe's interior and note any issues. While the camera head is inside the pipe a small radio sonde in the camera head is broadcasting its position. The locator wand is then used to trace where the pipe runs and how deep it is.
When a problem in the pipe is spotted, we make a note of its location and continue the inspection. Our goal is to create a complete picture of your drain pipe's condition. Continuing the camera inspection allows us to see if any other problems are further down the line. If we stopped at the first issue, critical damage could be missed. It is easier and more effective to replace all damaged portions of a pipe at once, as opposed to doing multiple repairs over time. A camera inspection is a great way to identify any potential plumbing problems in your drain pipe.
What if a camera inspection reveals that your sewer, septic, rain leader, or drain is fine? C.A. Taciak & Sons regularly provides pipe inspections for real estate agents and homeowners who want peace of mind. Performing an annual inspection gives you an excellent idea of your plumbing's condition. It also allows you to identify and repair plumbing issues before they seriously affect your home. C.A. Taciak & Sons offers a scheduled annual plumbing inspection service. If this is something you would like to know more about, please read about it here.
Most sewer video inspection cameras contain a powerful radio sonde in the camera head.  This sonde transmits a radio signal that can be picked up by a locating wand used by the inspector.  This wand dials in on this radio signal and gives an accurate location of the camera head.  It is critical for showing the exact location and depth of the pipe itself.  During a pipe locating inspection, multiple locations of the camera head are taken.  This allows the inspector to trace the run of the drain line and pinpoint the exact locations of any problem areas.  Using this information, the inspector has the ability to create a detailed and crafted plan of repair.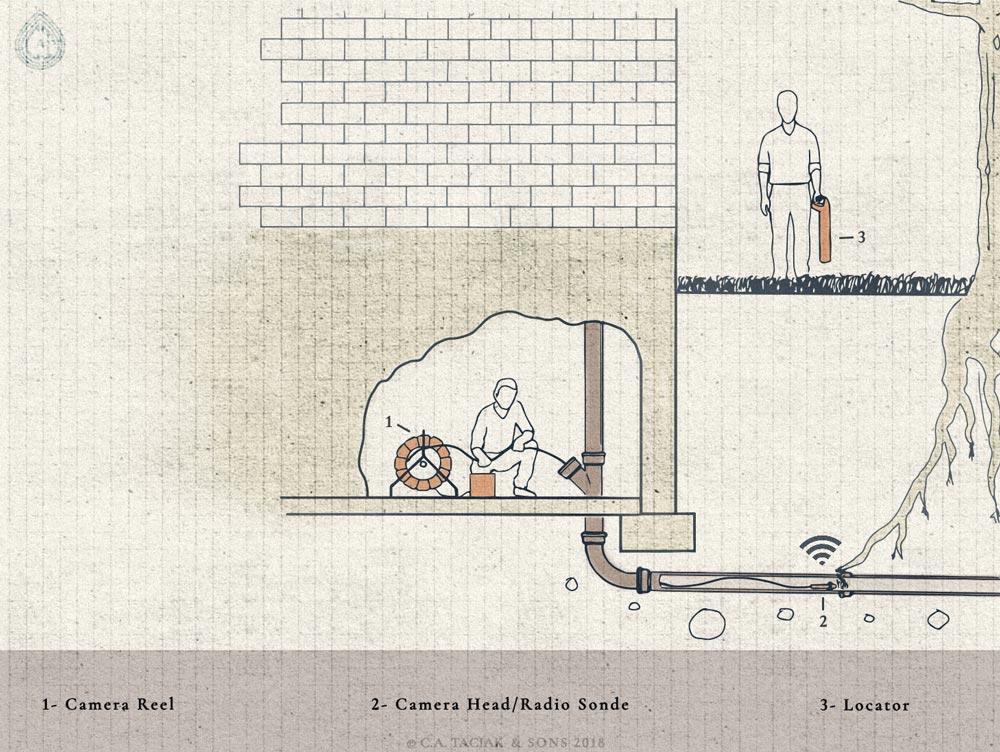 Diagnosing Pipe & Drain Problems
Using the powerful combination of camera inspection and pipe locating, sewer and drain problems are easily diagnosed.  Once an accurate diagnosis is made, a precise and crafted plan of repair can be created.  There is a wide range of problems that can occur in your home's plumbing.  No matter what these issues stem from, a camera inspection provides insight. When using this technology, it is easy to tell if the damage is a product of:
A camera inspection and pipe locating service can take the guesswork out of your plumbing problem.  It is a powerful tool when it comes to instilling peace of mind.  Perhaps you have been having drain problems and another plumber has suggested a seemingly large – and expensive – pipe repair.  C.A. Taciak & Sons often provides camera inspections as a second opinion service.  We are able to verify the severity of a diagnosis you may have received from another contractor.  Pipe inspections are also great when it comes to the thoroughness of repairs.  Finding and fixing the problem correctly the first time saves you money and time.  As homeowners ourselves, we understand how important this is.
Sewer and drain camera inspections for real estate
Sewer and drain pipe camera inspections are a powerful tool for real estate transactions.  When purchasing a new home, it is understandable to have concerns about its existing condition.  A Maryland state home inspection includes visually checking for working plumbing, but rarely goes deeper than that.  Critical problems deep within your new home's drain lines can pass by undetected.  This is why many homeowners are starting to request a video sewer inspection of their new home before the sale is finalized.  A camera inspection is a rigorous check similar to the requirements of septic inspection.  It works along the same lines as any other real estate inspection.  If any issues are discovered, they are noted, and repair or replacement options are provided.  A video sewer inspection can be a powerful negotiating tool for both seller and buyer.  If any issues are noted, a buyer can secure additional funds for the repair during the negotiation process.  All video sewer inspections – like any type of real estate inspection – are confidential and stay with the party that hires us.  If you are interested in having a camera inspection done on a real estate project, please get in touch.
C.A. Taciak & Sons Baltimore Camera Inspection F.A.Q.
How accurate is a pipe locate?
Pipe locating is extremely accurate and can usually pinpoint the location of a problem within one to two feet.  Pipe locating can also show the exact depth of the problem.  There are several ways to increase the accuracy of a locate if required.  C.A. Taciak & Sons are experts at performing accurate pipe locates for critical plumbing problems.
Are camera inspections and pipe locating only for outdoor underground plumbing?
No, the technology used by camera and locating equipment work in almost any drain line.  The only limitation is pairing the correct size camera inspection equipment with your home's pipe size.  C.A. Taciak & Sons has specialized camera equipment that enables us to inspect even the smallest drain lines.  We find this is incredibly helpful in servicing our neighbors in the Baltimore area.  Older historic homes have finicky plumbing that often comes in obscure sizes.  We are successfully able to inspect this piping with our highly specialized equipment.
What if my pipes are currently clogged? Will a camera inspection still help?
Although we can no longer see the exact cause of the problem if your drain is clogged, pipe locating will still identify where the issue is.  If a drain clean or other simple solution does not solve your problem, knowing it's location will allow us to accurately repair the pipe.